BRACKET, STEPPED 25 - 150mm BASIC KIT
This kit is intended for users who already have one of the VIP Platforms illustrated.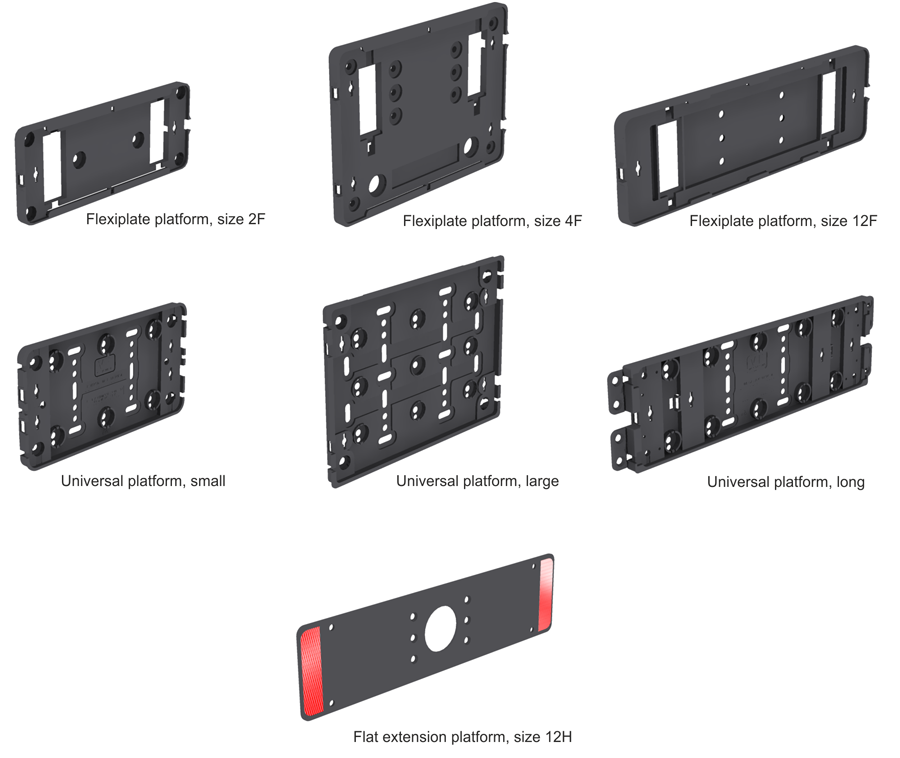 Each of the platform types shown are fully compatible with the 063060 Stepped Bracket. To ensure stability, platforms should be attached to the bracket using the four stainless steel nuts and machine screws supplied with the bracket as explained in the kit Assembly & Installation Guide and the combined unit, in turn, mounted on the vehicle registration plate and vehicle body using the hi-bond pads also in the kit.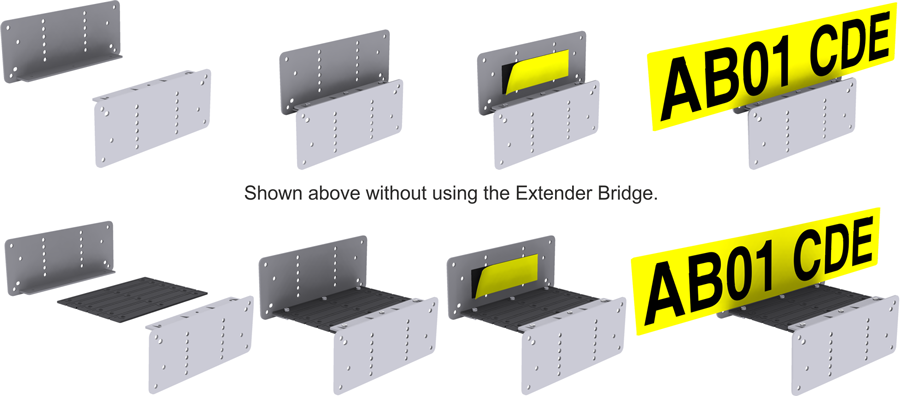 Shown above using the Extender Bridge.
Without using the bridge the plate is projected forward 25mm (1"). The bridge, at its maximum reach provides a projection of 150mm (6"). It is made to be easily re-sized in 25mm steps to provide projections of 50, 75, 100 and 125mm
KIT COMPONENT SET
2 of 10 1060 Bracket, number plate, L
1 of 10 0130 Bracket extender bridge, rigid
2 of 10 2600 Hi-bond self-adhesive, double-sided pad, 1.2 x 65 x 145mm
2 of 10 2000 Hi-bond self-adhesive, domed stand-off bumper
6 of 10 7029 Nylon machine screw, cheese head, 15mm x M6
6 of 10 7045 Nylon hex nut
1 of 10 2006 Surface Cleaning Wipe sachet, VIP
1 of 10 9998 Bridge test card
4 of 10 7025 Stainless steel machine screw, pan head, 12mm x M6
4 of 10 7054 Stainless steel washer, 15mm ED x M6
4 of 10 7040 Stainless steel self-locking nut, M6
1 of Assembly & Installation Guide
This kit is intended for users who already have one of the VIP Platforms illustrated above, none of which form part of the kit.
However, it will be clear that any
hard
plate specification can be attached directly to the bracket.
The dimensions of VIP Size 4H, which is the standard used by Transport for London for their
black cab
fleet, has screw holes which match those of the bracket.
NOTE: This product is available either individually or in packs of 25. The 06 product code shown is for one complete kit, as illustrated. Unless otherwise stated this product is available direct to council licensing departments and the VIP website shop to drivers, operators, and trade resellers via the VIP-System website shop.
Images are for illustration purposes only, colours are to allow better clarity of products. Unless otherwise stated, parts are made in Black injection moulded ABS
All Prices are exclusive of VAT and Shipping and are charged in GBP. VAT number : GB383040374