UNIVERSAL PLATFORM, SMALL, BASIC KIT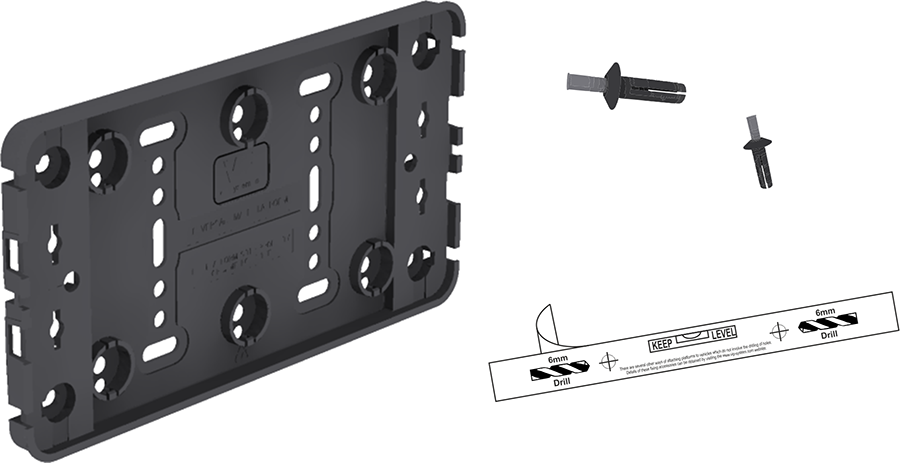 This plate platform, or if you prefer, plate holder is supplied as a basic kit as illustrated.
At the option of the user and with the approval of local licensing authority it can be retro fitted with the following
no screws necessary
accessories -
VIP Code 063230 HI-BOND ADHESIVE PAD KIT
VIP Code 063240 NEO MAGNET KIT
VIP Code 063010 NUMBER PLATE, FLAT, KIT
VIP Code 063060 NUMBER PLATE, STEPPED 25 - 150mm KIT
At the option of the user or with the instructions of the local licensing authority plates can be attached to the platform using -
VIP QUICK RELEASE BUTTONS
VIP CABLE TIES
- or with any commercially available cable ties, straps, or nuts and machine screws.
The small Universal Platform is used to mount several different plates of smaller dimensions than the widely used
London Black Cab
size whether or not manufactured by VIP-System Limited. These are identified overleaf.
In addition when rotated 90° into a
portrait
view this platforms is widely used with the VIP Code 06 0505 SIGN CONVERSION KIT to create elegant and robust lamp post mounted signage.
KIT COMPONENT SET
1 of 10 7300 Platform, Universal, small
2 of 10 3200 Nylon expanding rivet
1 of 10 9999 Platform, self-adhesive drill guide
1 of 10 0010 Quick Release Button & Key set
4 of 10 7415 Cable tie (plate to platform), VIP, black
Where plates are both fitted to a vehicle and subsequently removed at intervals whether by reason of their expiry date having passed or at the drivers option (if permitted by local licensing regulations) or for any other reason there is no possibility of any damage to the vehicle when platforms are in use. This should be of interest to both drivers and licence enforcement staff.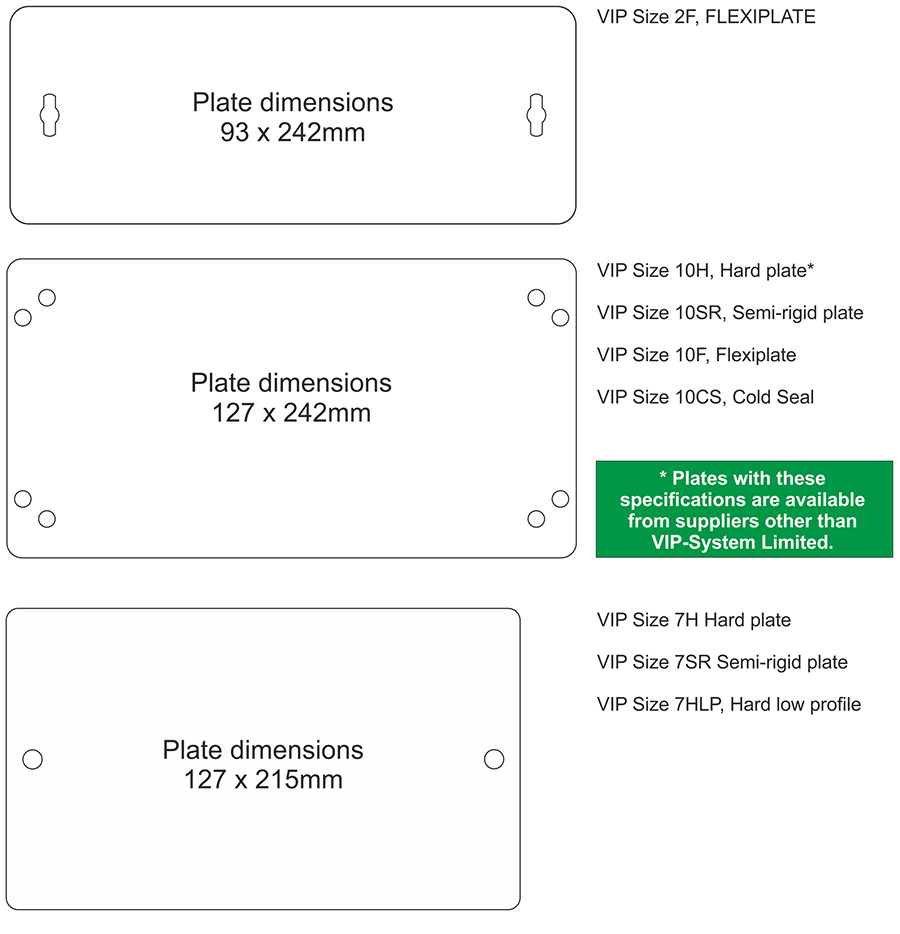 Although plate specifications which fit this platform are given, neither plates nor any plate components are available to any party other than a licensing authority.
NOTE: This product is available either individually or in packs of 25. The 06 product code shown is for one complete kit, as illustrated. Unless otherwise stated this product is available direct to council licensing departments and the VIP website shop to drivers, operators, and trade resellers via the VIP-System website shop.
Images are for illustration purposes only, colours are to allow better clarity of products. Unless otherwise stated, parts are made in Black injection moulded ABS
All Prices are exclusive of VAT and Shipping and are charged in GBP. VAT number : GB383040374