UNIVERSAL PLATFORM, LONG with NEO MAGNETS IN PLACE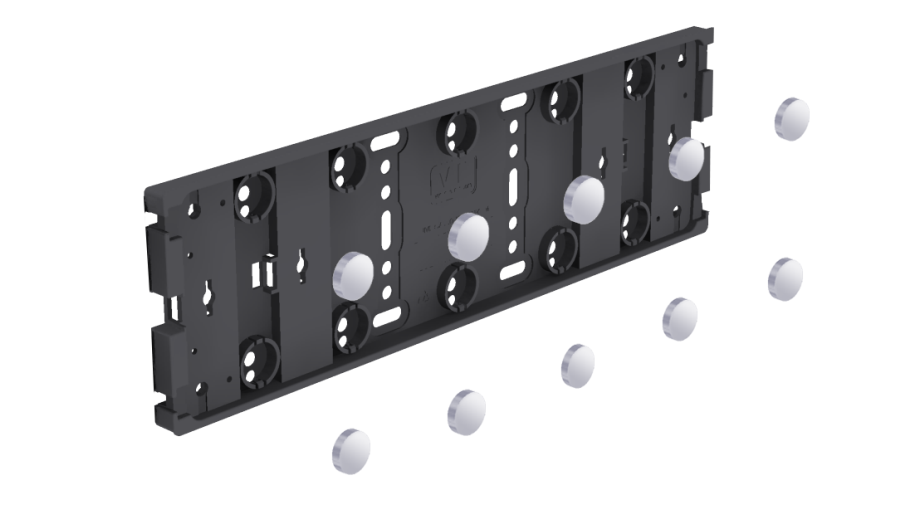 KIT COMPONENT SET
1 of 10 7310 Universal Platform, Long*
10 of 10 6800 NEO Magnet, 20 x 5mm*
1 of 10 0010 Quick Release Button & Key set
4 of 10 7415 Cable tie (plate to platform) VIP, black
* These parts are already assembled
WARNING
NEO magnets are surprisingly powerful. No attempt should be made to remove them from the platform for use in any other application.
Unmounted magnets should be kept away from children and all forms of ID, bank, travel and other forms of swipe cards and passes.
Likewise mobile phones and other sensitive electronic devices.
NOTE
Before purchase please ensure that the vehicle body to which you wish to mount a platform loaded with magnets is, in fact, of steel construction as many vehicles are now built with plastic panels, particularly bumpers and rear doors and magnet fixing is therefore unsuitable.
NOTE: This product is available either individually or in packs of 25. The 06 product code shown is for one complete kit, as illustrated. Unless otherwise stated this product is available direct to council licensing departments and the VIP website shop to drivers, operators, and trade resellers via the VIP-System website shop.
Images are for illustration purposes only, colours are to allow better clarity of products. Unless otherwise stated, parts are made in Black injection moulded ABS
All Prices are exclusive of VAT and Shipping and are charged in GBP. VAT number : GB383040374