MAGNETS for UNIVERSAL PLATFORMS, PACK
A VIP MAGNET SET Code 06 3240 contains ten 20 x 5mm sintered neo-dymium boron magnets. These are the EXTREMELY POWERFUL hi-tec substitutes for the iron horseshoe versions of magnets you remember from your childhood. They are not made of solid metal and require careful handling. Remove only one at a time from the stack and press it into position in the platform BEFORE releasing a second.
The cavities in the platforms have little fingers which prevent each magnet, once inserted, from leaping out and becoming attached to its neighbour. In order to insert the magnets into the cavities they MUST be presented under both fingers simultaneously from the side as at A illustrated below. Attempts to press home as illustration B will fail and may result in damage to either the fingers or the magnet itself.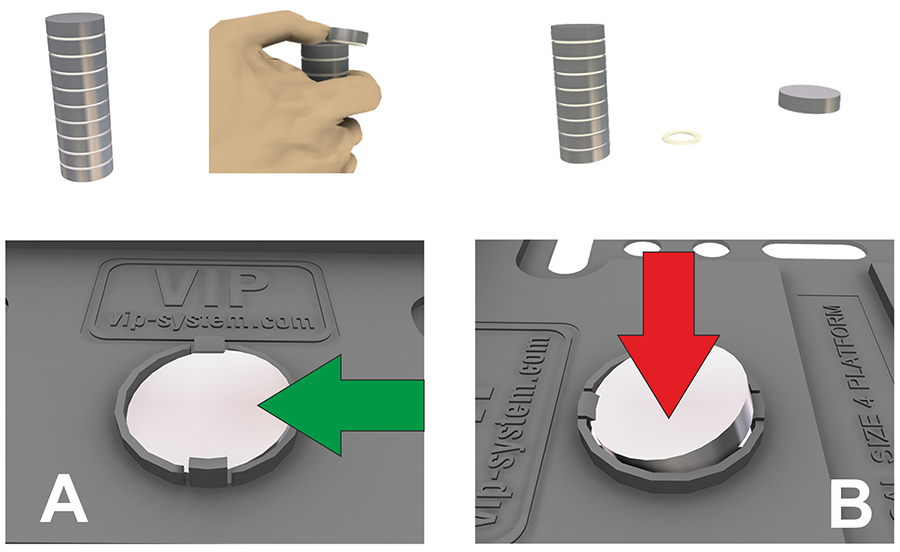 The VIP Universal Platform Size 4 (large) holds eight magnets and the Size 10 (small) holds six.
The Universal Platform, Size 12 (Long) which is not illustrated, holds ten.
Note:
Always keep un-mounted magnets away from children. They are not toys.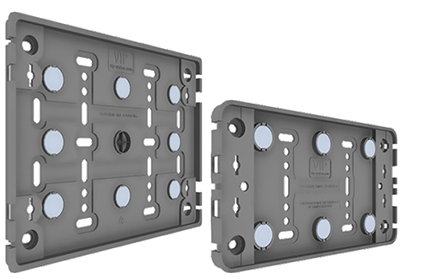 VIP Product Code Pack sizes
06 3240 Universal Platform NEO Magnets 1 of 10
06 3245 Universal Platform NEO Magnets 25 of 10
NOTE: This product is available either individually or in packs of 25. The 06 product code shown is for one pack , as illustrated. Unless otherwise stated this product is available direct to council licensing departments and the VIP website shop to drivers, operators, and trade resellers via the VIP-System website shop.
Images are for illustration purposes only, colours are to allow better clarity of products. Unless otherwise stated, parts are made in Black injection moulded ABS
All Prices are exclusive of VAT and Shipping and are charged in GBP. VAT number : GB383040374