STICKING ACCESSORY KIT for FLEXIPLATE PLATFORMS, SIZES 2F & 4F

There is no flat surface on the underside of Flexiplate Platforms to which to apply an adhesive pad. The Sticking Accessory Kit overcomes this by the use of a press-fitted Adhesive Support Backing Plate complete with a Hi-bond adhesive cushion into the receiving cavities in the platform. Each kit includes a VIP SURFACE CLEANING WIPE which should be used on the receiving surface to remove any wax or polish residue.
These pads are both waterproof and chemical solvent resistant. Therefore, if at any future date it becomes desirable to remove the platform from the vehicle, the use of a hair-drier applied to the support base to relax the adhesive
grab
, after detaching the platform, is recommended.
USE ON BODYWORK WHICH HAS BEEN VINYL WRAPPED OR SUBJECT TO A POST-MANUFACTURE RE-SPRAY IS NOT RECOMMENDED.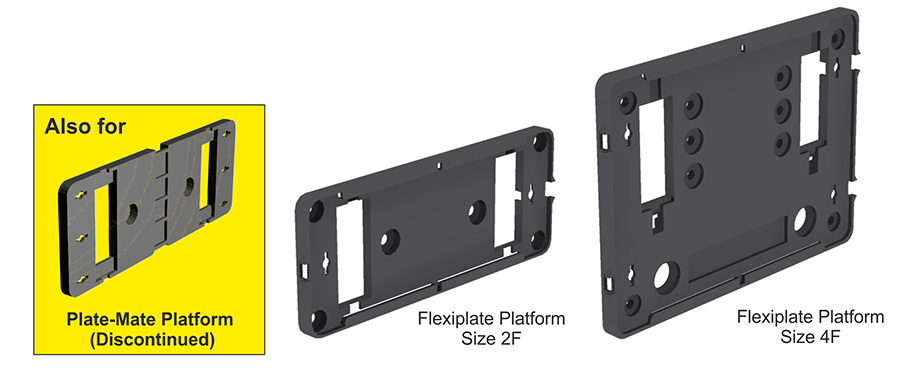 KIT COMPONENT SET
1 of 10 1035 Adhesive Support Backing Plate*
1 of 10 2605 Hi-bond, self-adhesive, double-sided pad 4.5 x 75 x 250mm*
* These parts are supplied already assembled
This kit is intended for users who already have one of the VIP Platforms illustrated, none of which form part of the kit.
NOTE: This product is available either individually or in packs of 25. The 06 product code shown is for one complete kit, as illustrated. Unless otherwise stated this product is available direct to council licensing departments and the VIP website shop to drivers, operators, and trade resellers via the VIP-System website shop.
Images are for illustration purposes only, colours are to allow better clarity of products. Unless otherwise stated, parts are made in Black injection moulded ABS
All Prices are exclusive of VAT and Shipping and are charged in GBP. VAT number : GB383040374